Appointments
All appointments can be made by clicking the link below or by giving us a call. We hope to see you soon.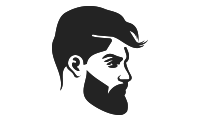 Book Now
Powered by Nearcut
Location
Bathgate
33 George Street, Bathgate, EH48 1PG
Livingston Village
6 Main St, Livingston Village, Livingston, EH54 7AF
The Team
Aaron McHarg
Owner and Barber
Aaron is the owner and director of Aaron Michael's. He completed his basic training at the City of Glasgow College in 2014 and shortly after travelled to Rotterdam to continue his education. He now has 7 years of experience barbering and launched the barber van when he was only 22 years old. Aaron was inspired to become a barber because he always enjoyed the chat and environment of the shops he visited growing up and his favourite hair styles are 1950s rock and roll inspired cuts. Aaron decided to name his business Aaron Michael's after a night spent drinking Jack Daniel's
Declan qualified from City of Glasgow College in 2012 and worked a few different jobs until joining the AM team in 2017. He now has 4 full years of experience. Declan became a barber because he loves a job where he can chat to and get to know people while also producing work he is very proud of. His favourite styles are old school 1920s inspired high and tight side parts and slick back tapers. Declan loves a bit of football, wrestling and comic book chat and has been to Wrestlemania in New Orleans and Dallas.
Brianna was a trainee with us who has recently made the step-up to full-time Barber! She's been cutting hair for just over a year after learning at City of Glasgow College, Edinburgh College and the Vidal Sassoon Academy. She specialises in hot towel shaving (beards & heads) and in her free time she kicks about with her dog Luna.
Rosa decided to become a Barber after spending 4 years perfecting her techniques on women's hair, she was ready for a new challenge & retrained at Edinburgh College 6 years ago. She has been cutting hair for 10 years and focused on barbering for 6. Her favourite styles are the classics, more specifically side parts, pompadours and slick backs.
David studied at the Made Academy in Glasgow, which is a collaboration between glasgow Kelvin college and rebel rebel barbers. He wanted to be a Barber because he wants to spread the confidence of a fresh haircut as much as he can.
Sean joined the AM team in 2021 after studying at City of Glasgow College. His favourite styles to cut are mullets and classic "old school" styles.
Luke originally joined Aaron in the Barbervan in 2016 after expressing a desire to change careers (and being an overly keen customer turning up on the first day an hour early) Luke left AM for a while to live in Finland before working in some great barbershops in Edinburgh. He rejoined AM in 2022 and works in Bathgate on Wednesday and Thursday then Livingston on Friday and Saturday.
Kyle studied at the Scottish School of Barbering before joining AM in 2022 and under going extensive training with our team, developing his skills massively. Unfortunately we haven't been able to improve his chat.
Chris joined AM in September 2022 and can be found on Tuesdays in Livingston Village and Wednesday to Friday in Bathgate. Chris loves a bit of football chat and ridiculous trainers.
Steph joined the AM team in August 2022 as a trainee and, after undergoing intensive training in house and with industry leading experts, has since made the move to a full-time barber position. She's an excellent addition to the team and a skilled barber. Just don't ask her for a lift anywhere, as her driving skills don't quite match up. Find her in Livingston on Tuesdays, Thursdays and Saturdays and in Bathgate on Fridays.
Nathan trained at the Sid Sottung, learning vital barbering skills from Sid himself. He has also received training from the guys at Lovett's Barbershop and continued to learn from the highly skilled barbers around him at his previous shop, Jordan Alexander. He has now joined the Aaron Michaels team and is ready to expand his skills and offer his fantastic services to the people of West Lothian!
About Us
Aaron Michaels opened its doors to the public for the first time in April 2016, and has been providing a high-quality barber service to our clientele ever since. Our aim is to provide the highest standard of services from start to finish, with a focus on providing our customers with the best barber experience around. We want Aaron Michaels to be a place where our clients can come to sharpen up their image in a welcoming, laidback environment. With barbers trained in a range of styles and services, you are in good hands with the AM team. We currently work on an appointment basis. This allows us to dedicate our full attention to our clients and deliver a higher level of quality so please book in advance. Initially offering barber services in a custom converted ex-NHS dental van, Aaron Michaels Mobile Barbershop gained many loyal clients at it's regular pitches in and around Livingston. After out-growing the mobile barbershop and looking to expand, we opened our first brick-and-mortar shop - Aaron Michaels Murieston - in July 2017. This was closely followed by the opening of Aaron Michaels Howden in November 2017. In July 2020 we moved to Livingston Village. We recently expanded by opening another location in Bathgate in 2022 and have plans for future locations in the surrounding West Lothian area. In 2023 we were given the honour of winning the Best Barbershop award at the Scottish Hair and Beauty Awards.